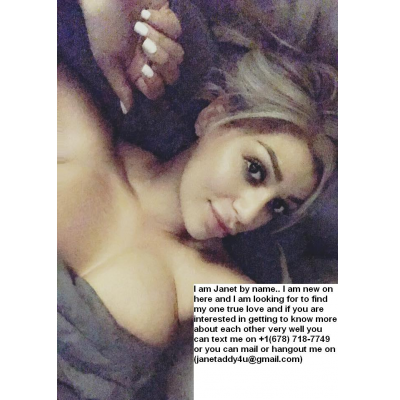 Janetaddy4u
Birth sign: Taurus
Age: 41 years old
Preference: Straight
Sex: Female
Country: United States
City: Wallington
About me
I enjoy being a woman, I like to wear elegant dresses, sheer lingerie and high heels, or can be tight sexy jeans and short t-shirts, why not? Hope you will find me beautiful in any gown. But only a real man will make me feel a true woman! I am tender caring woman, who is searching for her love. I think I don't ask for something supernatural, I just want to be happy. I am quite successful with everything in my life, just not yet in love. I am family oriented. Family relations are very important for me, and my own happy family is one of the things I have always dreamed of. I'm ready for a real meeting and communication. Write to me soon!
Janetaddy4u has no friends.
Janetaddy4u has not taken the personality quiz yet.
Janetaddy4u has no recent activity